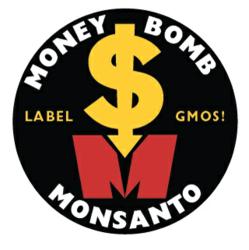 Many environmental groups combined across the country and raised more than $1 million online between May 1 and May 26 to support the California Right to Know Genetically Engineered Food Act, a citizens' ballot initiative. Ronnie Cummins, Director of the OCA says, "The success of this campaign speaks to the passion shared by people from all walks of life, regardless of political persuasion, for the basic right to know what's in our food." All of the money raised will be used to support the California Right to Know campaign and other state GMO labeling campaigns. The ballot initiative requires that all genetically engineered foods and food ingredients should be labeled. The "Drop the Money Bomb on Monsanto" campaign will continue to raise money even after the end of deadline right up until voting takes place in November.
http://www.organicconsumers.org/articles/article_25588.cfm
If you want to "Be GMO Free" stay informed by checking out these recommended books featured on GeneticallyEngineeredFoodNews.com!